In Raleigh, North Carolina, a nutrition nonprofit served up cooking classes for the community. Due to the COVID-19 pandemic, these classes were held virtually. Despite the hurdle, the event was a success!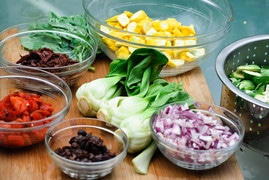 In March 2020, the Poe Center for Health Education was on the brink of launching a unique nutrition nonprofit program. Through hands-on healthy cooking classes, the Poe Center hoped to influence children in the community to embrace health-conscious eating habits. Unfortunately, their timing couldn't have been worse! At that time, the COVID-19 pandemic hit the world like a ton of bricks, halting the Poe Center's unique initiative in the name of social distancing.
Seven months later, in September 2020, the nutrition nonprofit decided, the show simply must go on — and go on it did! The initiative has gone virtual, with guests tuning in online to watch and follow along with the online classes. So far, the program has been a smashing success in the Raleigh community and the Poe Center is eager to expand on the effort.